HRBP Advanced Learning Path
A steady career progression: Become a Human Resource Business Partner.
CHRMP HRBP Advanced certification equips you with essential skills needed to become effective HR Business Partners and play a strategic role in organisational decision making. The certification covers all the major domains within HR that impact organisational effectiveness. We have outlined a recommended Learning Path to enable our HRBP participants to acquire the much-needed competencies in a more structured manner.
The pre-recorded lessons, available online, comprises learning modules that you can complete at your own pace. Each module consists of videos, quizzes and additional resources that will make learning fun and help ensure that the concepts are as simple as possible to implement in real-life situations.
Coverage : 10 self-paced courses
Begin your HRBP Advanced Journey here.
Blended Learning (Self-Paced with ILT Sessions)
In order to cater to participants having preference for Instructor-led sessions in a virtual classroom, CHRMP offers a blended learning experience where the self paced program is complemented by virtual Instructor led sessions( Deep Dive) happening every weekend covering all the courses in a loop. The Instructor-led sessions function in a loop with multiple entry and exit points giving you the flexibility to opt for any loop at your convenience. You have the freedom to enter and exit out of the loop at multiple points, helping you control your pace of learning. For example, you can start with Job Analysis and take an exit at HR Learning & Development after completing the entire loop. Similarly you can start from Compensation and Benefits Planning and take an exit at Competency Mapping. Likewise, you can start from any other module as well. In case you wish to exit at some point and rejoin again, the circular scheduling of the Instructor-led sessions give you the flexibility to do so.
Coverage : 10 self-paced courses + 10 virtual Instructor-led sessions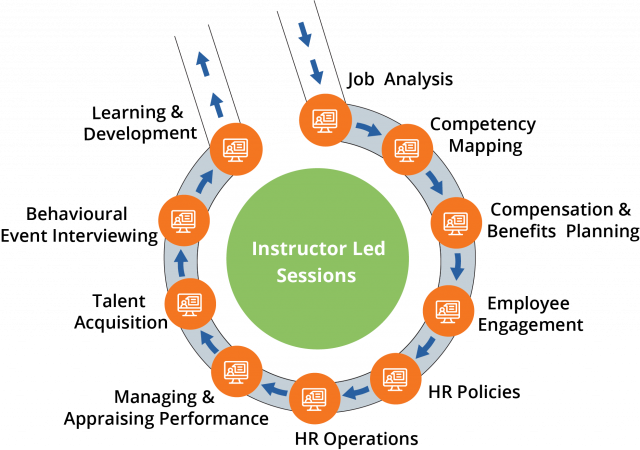 Begin your HRBP Advanced Journey here.
Once you complete all the courses , you can take the Mock Test as a tool for self assessment.
Final Certification Exam (Mandatory)
Frequently Asked Question